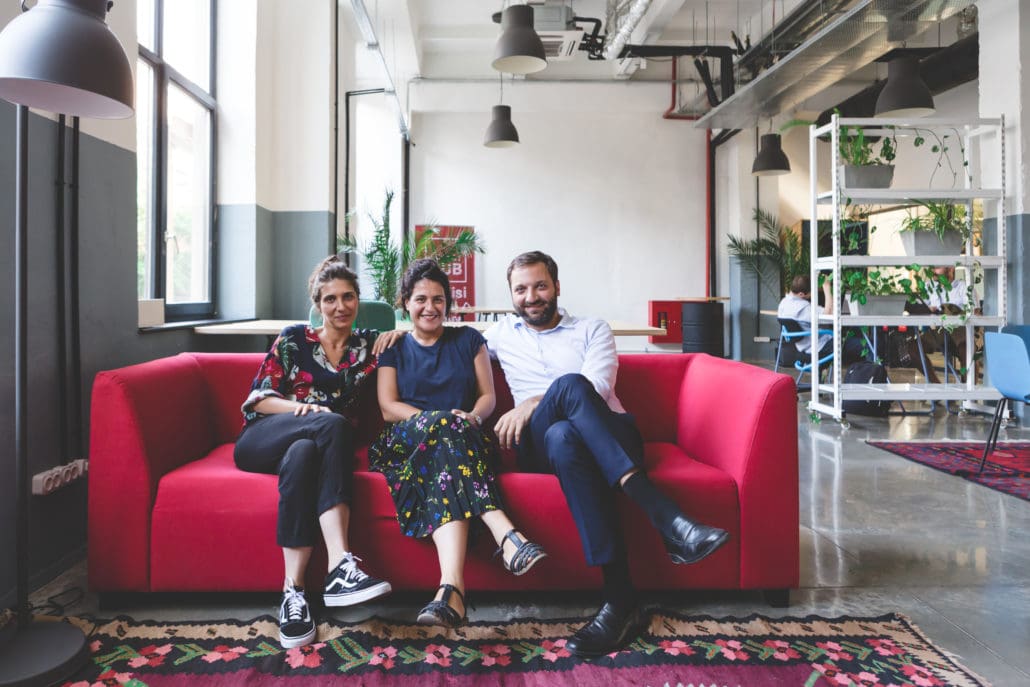 Interview with the co-founders of Impact Hub Tbilisi
Ketevan Ebanoidze, Elene Jvania, George Akhalkatsi

5 years ago, we, three co-founders of Impact Hub Tbilisi, together with Europe Foundation, began a BOLD, INSPIRING and IMPACTFULL journey full of changes and challenges. Since then we have become a place for work, network and collaboration for more than 1,000 members with diverse experiences and backgrounds from all over the world. It has become a place where entrepreneurs, professionals, civil activists and other community members combine their efforts for a better tomorrow.
Today we can say proudly that Impact Hub Tbilisi is much more than just a physical co-working space that offers a flexible and highly functional infrastructure to work, but the place where people get inspired, connect, support each other and develop themselves to put a step forward.
The main achievement…
The main achievement of the past 5 years is the community of members, partners, friends and supporters that we have united around us. With our programs and projects, we have significantly increased the interest towards entrepreneurship, social entrepreneurship, innovation and technology among almost all generations and in almost all regions of Georgia.
Throughout 5 years of our journey, we managed to host more than 550 educational events, workshops, training, lectures, and screenings with more than 28 000 guests. Our educational programs supported startups, promoted entrepreneurship/social entrepreneurship, diversity, innovation, empowered women, inspired kids and youth.

More about activities…
Our flagship program is the Social Impact Award (SIA) -an international educational program, designed to promote the knowledge and practice of social entrepreneurship. Impact Hub Tbilisi got a license to implement the SIA in Georgia in 2017, and we are very glad that the interest in social entrepreneurship is growing every year and the concept is becoming more and more interesting and attractive for youth. We have had 1300+ participants, 40 incubated ventures, 86 workshops and helped 19 enterprises to get the seed funding actually launch their social ventures. It's worth mentioning that we have hosted Social Impact Award International Summit in 2019, where we had guests from 25 countries with more than 150 participants.
Startup Pre-accelerator – the program was founded and kicked off in February 2021. With this program we aim to nourish the entire startup ecosystem, by bringing together startups, mentors, potential investors, industry insiders and wider communities by organizing public social gatherings, industry talks, and masterclasses. The program targets to bring technology- based or technology-enabled startups with scalable business models to the market.
ZEG – Tbilisi Storytelling Festival – is the best example of how ideas might be born and executed at Impact Hub. The first-ever storytelling festival in the region was co-founded by us, the team of Impact Hub Tbilisi and our member Codastory (the multimedia platform that brings together innovative design and the best of traditional journalism). ZEG brought together an eclectic group of speakers, from Pulitzer-winning authors to Emmy-winning filmmakers to the Vice President of Warner Bros and creator of Vogue 73 questions, who put their heads together and shared their thoughts about shaping narratives for the future.
Fuckup Nights Tbilisi – monthly gathering where successful entrepreneurs share their failure stories with a broader audience. Fuckup Nights is a global movement where stories of failed businesses and projects are told, questioned and celebrated. We joined this global movement in 2018 and already hosted 30 events with more than 5000 guests.
Startup Fellowship Orange – aims at building a strong community around the goal of entrepreneurship and social transformation. With the support of the Embassy of Netherland to Georgia, the program gives home to the newly established ventures and encourage them to develop and continue their work in Impact Hub's supportive environment while obtaining new skills for realizing their visions.
Startup Anbani – a program dedicated to promoting entrepreneurship among kids aged 11-13. The six-week program helps participants to generate ideas, develop products and participate in the annual flea market.
Kids in Electioneering – a three-month training course for kids aged 11-13 that aims to stimulate interest towards electronics and robotics.
60+ program for women over 60, where participants acquire necessary entrepreneurial skills to launch their culinary business.
Cult Up – a capacity-building program to empower young entrepreneurs working in the field of cultural heritage in the Mediterranean and Eastern Europe. We covered 6 countries and hosted 126 participants.
We are actively collaborating with various international organizations (UNDP, UNwomen, GIST, VentureWell) governmental (US state dep, Embassies, Startup Estonia) or non-governmental entities (EFSE Entrepreneurship Academy, Universities), private sector (banks), that are actively involved in developing entrepreneurship ecosystem in different countries. In the frame of the partnerships we have delivered several events/activities that have contributed to the development of our local startup ecosystem as well. We would highlight our collaboration with Garage48, with them we have organized several hackathons and bootcamps with up to 300 participants. Soon after the Covid-19 pandemic hit the world, with Garage48, we have been involved in organizing The Global online Hack, which brought over 12k participants from 100+ countries and has delivered 500 life-changing projects.
The biggest challenge…
The biggest challenge is to consistently create interesting content for programs and projects and at the same time maintain the vibrant, collaborative and friendly atmosphere in our space that makes Impact Hub Tbilisi so special. All these needs lots of effort and is related with permanent process of personal and professional self-development to be always up-to-date and stay in the loop.
What's next?
Of course, we plan to continue our activities in the future and further enrich our portfolio, with a particular focus on tech and we will tirelessly continue building the community of doers who will change the tomorrow for good.
Have a glimpse into 5 years of IMPACT: https://youtu.be/oyYMjRx8BxI